Featured Product
The best products from Cashmere Pink Jewels & Accessories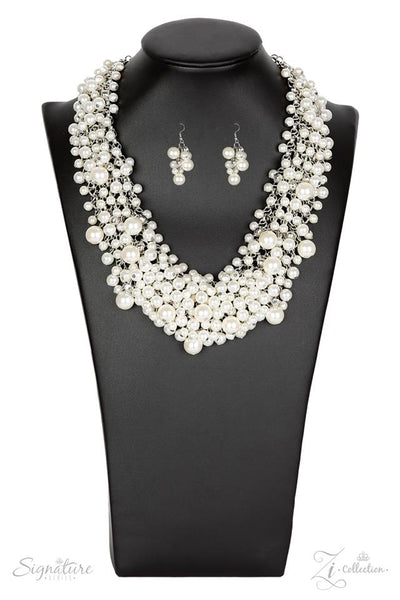 $25.00
The Tracey
Varying in size, countless white pearls cascade from a web of thick silver chain, creating a bubbly fringe that falls just below the collar. Classic white rhinestones are nestled among the endless sea of pearls, adding hints of timeless sparkle to the glamorous statement piece.
SHOP NOW
Thank you Cashmere Pink Jewels & Accessories for providing a beautifully presented online store for Paparazzi jewelry. I've been a fan for a few years and stumbled onto your website on a whim. I appreciate the no nonsense accessibility for viewing items and having the ability to filter the jewelry by color and medium, something the main Paparazzi website no longer offers. You also carry all of the latest merch! I'm a fan of seed beads, leather, tassels, wood, and the occasional glam! The arrival of my purchases, which have been packaged beautifully and well, from order to door, were received within the week, and I truly enjoy that you offer free shipping for purchases totaling $25 and up, which allows me to purchase a little extra. I just wanted to let you know how much I appreciated the ease in shopping on your online store. I know I'll be back! Sincerely,
AH - CA
Tracey, thank you for your kind words! You are the first consultant that has ever reached out with a thank you via email, that means a lot.
Karen F - Auburn, CA
This company has an amazing assortment of beautiful jewelry. I am glad they keep the latest pieces in our face every day!
CB Rogers Links- 365
I love the beautiful nickel and lead free jewelry that Cashmere Pink Jewels & Accessories has to offer. The inventory is Amazing!
SJJ - Atlanta, GA
I love the diversity! There is a set for every occasion. Business, Casual, Formal! You Name It, They've Got It!
B Shackleford - Villa Rica, GA
Love the jewelry, the large selection, and variety. The customer service is excellent!
KJ Johnson- Atlanta, GA
Cashmere Pink Jewels & Accessories is my go to for all my jewelry needs! The variety of pieces is excellent, and so is the customer service!
Terri - Lithia Springs, GA

FREE SHIPPING
EVERY DAY
All orders of $50 & Up

DEDICATED SUPPORT

MONEY BACK
If the item didn't suit you
FOLLOW US ON PINTEREST
www.pinterest.com/cashmerepinkjewels